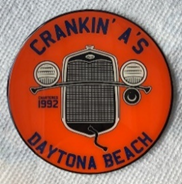 Crankin A's Board of Directors Minutes
Date/Time: 9/19/2023 at 10:15 AM
Location: The Garage educational area
The Board of Directors in attendance were Fred Clark, James Foresman, Jeff Moore, Herman Wedemire, Fred Ziffra. Absent was J. B. Barnes. A quorum was present.
This meeting was requested and led by club member Gary Michael, garage foreman.
Discussion of the following:
Security for the Garage – Cameras and internet access was recommended.
It was suggested that 3 people have authorization to access the loft area, authorize the sale of car parts, and manage the borrowing of club tools.
If you want to look for car parts, it must be with one of the 3 authorized people.
Members must get approval and make monetary contributions for car parts.
It was suggested that the donation of parts to the club should be recognized on the website.
It was suggested that that the Garage be organized in the following work areas, with tools corresponding to that type of work in their respective areas:
Carburetor repair area
Tire area
Degreasing and Sand Blasting area
Machining w/work table area
Electrical area
Project car area
Boddy work and painting area
Welding area
Cleaning, buffing and waxing area
Storage for sheet metal area
_____________
Discussed was the need for a separate fund for tools and materials. This need has previously been met with the proceeds of the $1.00 donation provided by each member on Tinker Tuesday. If this is not sufficient it was proposed to increase our annual membership dues. No motion was initiated.
With regards to our website, a suggestion was made to add the following pages:
Contributions to the club
Classifieds
Meeting adjourned at 10:50 AM
Submitted by: Kim Ziffra, President, Crankin A's Model A Restorers Club, Inc.